'That C*nt. I Hope She's Punished': New Texts Show Tucker Carlson Fumed About Trump Team's Stolen Election Claims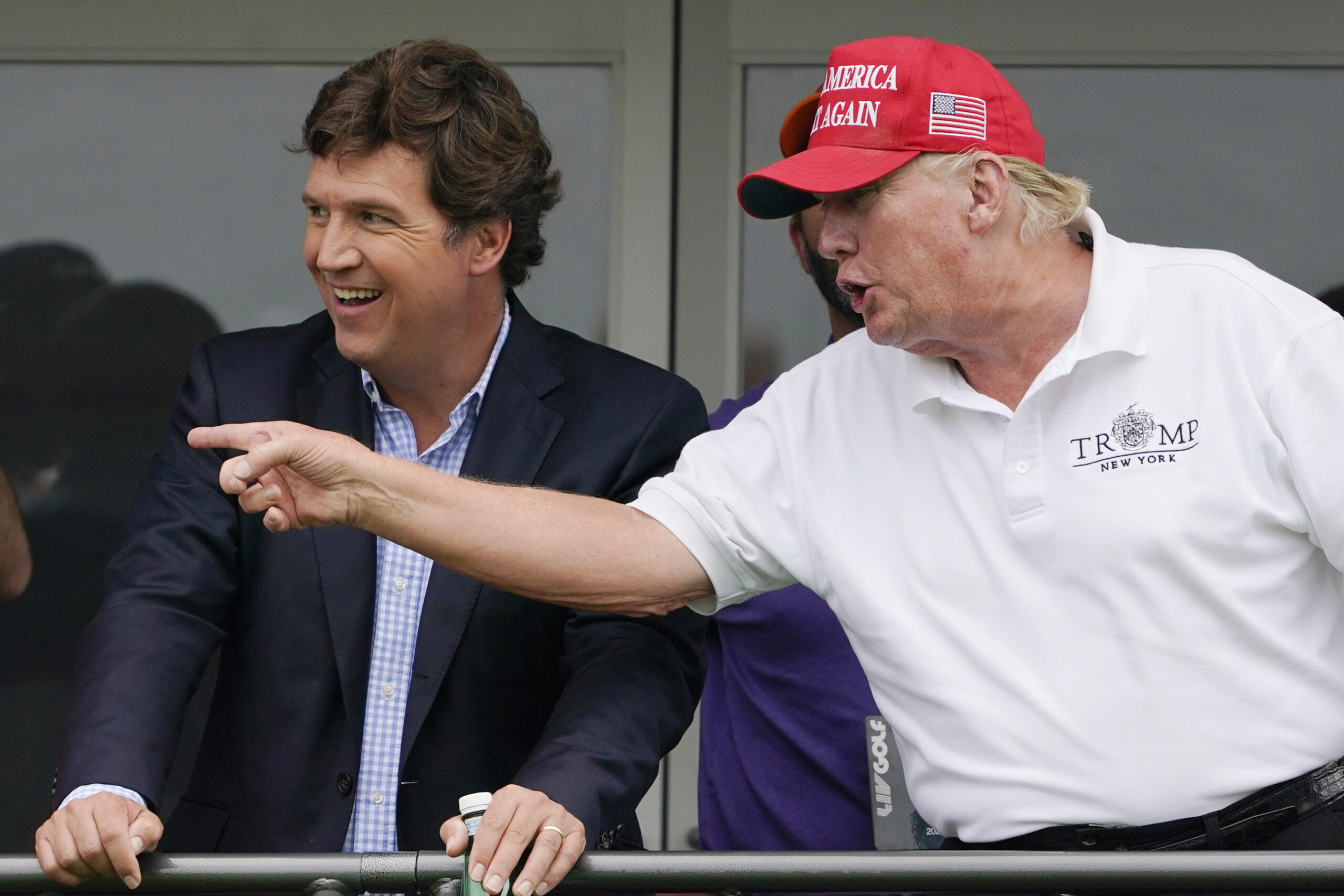 A trove of new messages from inside Fox News in the aftermath of the 2020 election were made public Wednesday as part of Dominion Voting System's $1.6 billion defamation lawsuit against the network.
The newly released communications, which include messages that were previously redacted, show the Fox News fact-checking team — known internally as the Brain Room — informed Fox hosts and executives that there was no evidence to support claims being made by President Donald Trump and his team that the election was rigged by widespread fraud. Fox News, Dominion argues, aired those claims regardless of that knowledge.
Other messages show the extent to which Fox News host Tucker Carlson fumed about the claims being made by Trump's team about the election.
In one exchange, Carlson raged in texts to his producers that Sidney Powell, who at the time was a lawyer for the Trump campaign, could not provide evidence for her increasingly loony allegations that the election was stolen.
When a Fox News staffer whose name is redacted from the communications sent Carlson a report that Powell had been "shunned" by the Trump team over her deranged claims, the Fox News host replied with an expletive.
"That cunt," he wrote in a text on Nov. 22. "I hope she's punished."
"I'm going to destroy her," the staffer replied.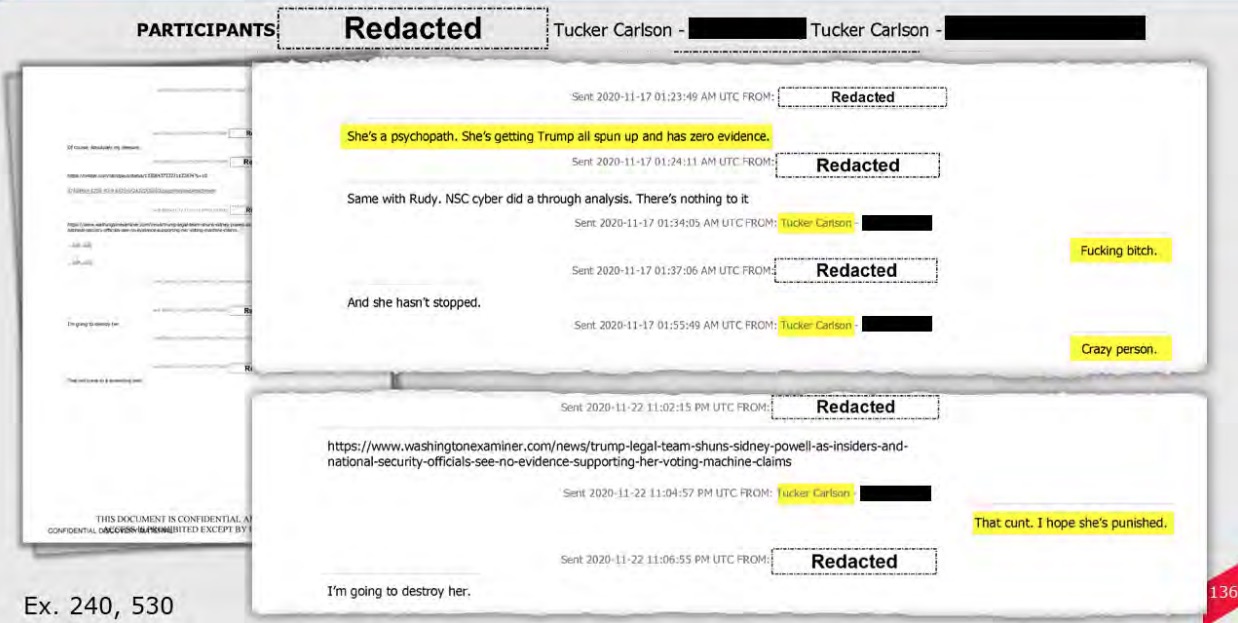 Fox News responded to the new revelations in a statement to Mediaite: "These documents once again demonstrate Dominion's continued reliance on cherry-picked quotes without context to generate headlines in order to distract from the facts of this case. The foundational right to a free press is at stake and we will continue to fiercely advocate for the First Amendment in protecting the role of news organizations to cover the news."
Days earlier, Carlson also expressed fury with Powell over her false claims about the election, claims he had even questioned on the air of his prime time show.
"Sidney Powell is lying," Carlson said in one message that was previously reported. "Fucking bitch."
"She's a psychopath. She's getting Trump all spun up and has zero evidence," an unknown Fox News staffer replied.
"Fucking bitch," Carlson added. "Crazy person."
While Carlson raged against Powell's claims in private, and challenged them to some extent on the air by demanding she provide evidence, he nonetheless lent credence to Trump's absurd claims about the election throughout the aftermath of the 2020 race — and continues to cast doubt on the 2020 election to this day.
Earlier this month, during his coverage of the Jan. 6 attack on the Capitol, Carlson described the election as unfair.
"The protesters were angry: They believed that the election they had just voted in had been unfairly conducted. And they were right," Carlson said. "In retrospect, it is clear the 2020 election was a grave betrayal of American democracy. Given the facts that have since emerged about that election, no honest person can deny it."
He did not specify why he was describing the election as unfair. Private communications from within Fox show everyone from hosts to executives at the network admitted privately that President Joe Biden did indeed win the 2020 election.
To quote Fox overlord Rupert Murdoch, speaking under oath in his deposition: "The election was not stolen."
Have a tip we should know? [email protected]