'Set up for failure': the wild story behind the car crash interview which destroyed Prince Andrew

A Pizza Express in Woking. The inability to sweat. A tendency to be "too honourable". Prince Andrew's 2019 Newsnight interview was a bonanza of bizarre excuses – in which he disastrously tried to defend himself from allegations that he had sex with a 17-year-old girl trafficked by his friend Jeffrey Epstein. Greeted with a riot of disbelief, anger and meme-making by the public, it was the most explosive royal interview of the decade. But how on Earth did it happen in the first place?
A new documentary, airing as part of Channel 4's alternative coronation coverage, is lifting the lid on this remarkably misguided interview. But Andrew: The Problem Prince kicks off with an entirely different TV appearance. It's 1985 and the prince is primarily known as a pin-up, playboy and the Falklands hero who risked his life for his country. He is also known as Randy Andy, a nickname referenced by his interviewer on this occasion, a giggling Selina Scott. Andrew shrugs it off with remarkably easy charm and humour. The audience howls in approval. "It was a badge of honour then – the idea of this young prince cutting a swathe through the aristocratic women of London was something to be admired," says James Goldston, former president of ABC News and one of the documentary's producers. "There was zero conversation at the time about: are there ethical or moral issues involved in this?"
Fast-forward three decades and Sam McAlister, a guest booker on Newsnight, receives an email from a PR company offering an interview with Prince Andrew about his charity work. She declines on the grounds that it sounds like a puff piece, but the exchange prompts months of negotiations about a more wide-ranging interview, which is again rejected by McAlister because the palace has a single stipulation: all questions about convicted paedophile and financier Jeffrey Epstein are off the table.
But then Epstein is found dead in his New York prison cell. Until that point, the man Newsnight's Emily Maitlis describes as "America's Jimmy Savile" had been a peripheral figure in the public consciousness: now he is centre stage, and the prince's friendship with him is under the media's microscope. Eventually, Andrew's team change their minds. McAlister – whose book Scoops: The BBC's Most Shocking Interviews from Steven Seagal to Prince Andrew, was the inspiration for this documentary – can barely believe her luck.
It only gets weirder from there. Andrew brings his daughter Beatrice to a meeting with McAlister and Maitlis. He seems delighted after the interview, inviting the Newsnight team to stick around for a cinema night at Buckingham Palace. It's only when the Queen receives the transcript, and Andrew receives a "tap on the shoulder" from the palace (according to Maitlis), that the catastrophe becomes clear to him. The interview then prompts Virginia Giuffre – who claims the prince had sex with her on several occasions when she was 17 – to pursue Andrew legally. The lawyers interviewed for the documentary "are very specific", says Goldston. "What he said opened the door to bringing that legal action which ultimately destroyed him." In 2022, Andrew settled out of court.
Andrew: The Problem Prince is expressly not a "hatchet job", says Sheldon Lazarus, another of the programme's producers. Instead, it's an attempt to anchor Andrew's behaviour and decisions within the broader context of his life: despite his status and knack for making headlines, Lazarus believes there has never been an in-depth documentary about him before. We hear how the Queen indulged him as a child, and how Andrew's finances meant he could never afford the lavish life he had become accustomed to. While Charles had an annual income of £20m, Andrew had to make do with a yearly allowance of £249,000 from the Queen. "By most standards that's a lot of money, but to live a royal lifestyle, it's obviously not enough. You feel that he's being set up for failure," says Goldston.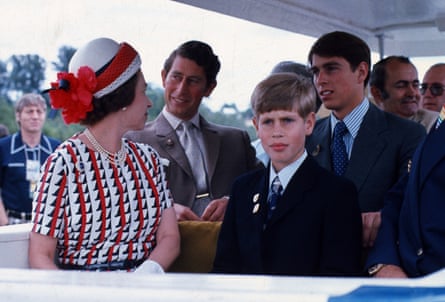 One of the most notorious moments in the Newsnight interview sees Maitlis ask Andrew whether he regrets consorting with Epstein. No, he replies, because the opportunities he got from it "were actually very useful". According to Lazarus, the producers found themselves asking a question: "If he had been wealthier, would he have made better decisions, and not got into this crowd in order to keep up with the Joneses – or the Windsors?"
Tonally, the documentary team had to tread carefully. While the Newsnight interview was inescapably comic in content, its subject was a set of extremely serious and disturbing crimes. "I think you can use humour in the most serious of circumstances, as long as it's done appropriately," says Goldston, whose other job at the time was overseeing the coverage of the January 6 committee hearings in Washington DC.
After all, much of what goes on with the royals veers between farce and something far more troubling. One of the standout moments from the documentary is an interview with the former – yet still palpably annoyed – deputy British ambassador in Bahrain, who recounts Andrew's freewheeling and ultimately very damaging input as a trade envoy in the early 2000s. "I love the line that ultimately his boss is the Queen – there was just no accountability," says Lazarus. The diplomat also tells of how the prince refused to stay in ambassadorial residences, instead hiring out luxury hotels to house his thank-you letter-writer and valet.
The Problem Prince isn't just about the titular royal, however. It's "a celebration of the power of journalism," says Goldston, who admits to feeling "kind of jealous" about the Newsnight scoop at the time. It's also an insight into a rather mysterious job: that of the celebrity booker. "I've worked in journalism for 30 years and been involved in a lot of big gets: presidents, prime ministers, celebrities," he says. "The art of the booking has always fascinated me – how does that happen?" Goldston ran Good Morning America "at the height of the morning wars and watched these bookers go after these things every day. It's a phenomenal feat of endurance."
It's a world Lazarus is also familiar with, having started his career booking guests for Paula Yates's On the Bed segment on Channel 4's The Big Breakfast – a job he admits wasn't beholden to the same journalistic ethics as Newsnight. "I definitely wouldn't have said no to Andrew," he says. "He could have come and juggled – he could have done whatever he wanted!"
The documentary provides an intimate insight into the big-name interview, but its headline question – why Andrew decided to appear on Newsnight in the first place – is ultimately left unanswered. Maitlis suggests it may have been an attempt to clear his name for his daughters' sake, while Goldston thinks the media pressure meant "he was going to have to confront it head on and that's how they end up saying yes". That, however, doesn't explain why he went against the guidance of trusted advisers, including media lawyer Paul Tweed, who claims in the documentary that he warned Andrew not to do it.
Instead, you come away with the sense that it was driven by a heady cocktail of yes-men-powered delusion and extreme naivety (he was "not intellectual", according to royal biographer Andrew Lownie, while Tina Brown's The Palace Papers claims that Epstein called the prince "an idiot"). Yet this cluelessness wasn't limited to Andrew himself. Goldston recalls McAlister telling him that as the interview concluded, a member of the prince's staff leaned over to her and muttered, "'Isn't he marvellous?' That lack of understanding of what had just happened was pretty profound."
The documentary ends with a portrait of an underemployed Andrew living in the shadows. And yet Tweed, who appears in the documentary with the blessing of the prince and his family, suggests something that seems currently unthinkable: the idea that the prince might make a return to public life. Is there any world in which this could happen?
"I think they live in hope that they can still turn this round, which is actually a very interesting idea," says Goldston. "[Tweed] has seen a lot of these cases. Who knows?" Never say never, but if the royal family wants to survive until the next coronation, it seems that Andrew – utterly tone-deaf, entitled beyond belief and morally dubious, at best – is everything it must leave behind.