Sources Say Grand Jury Meeting Today Isn't on Trump, Who Blasts Manhattan DA's Office Over 'NO CASE'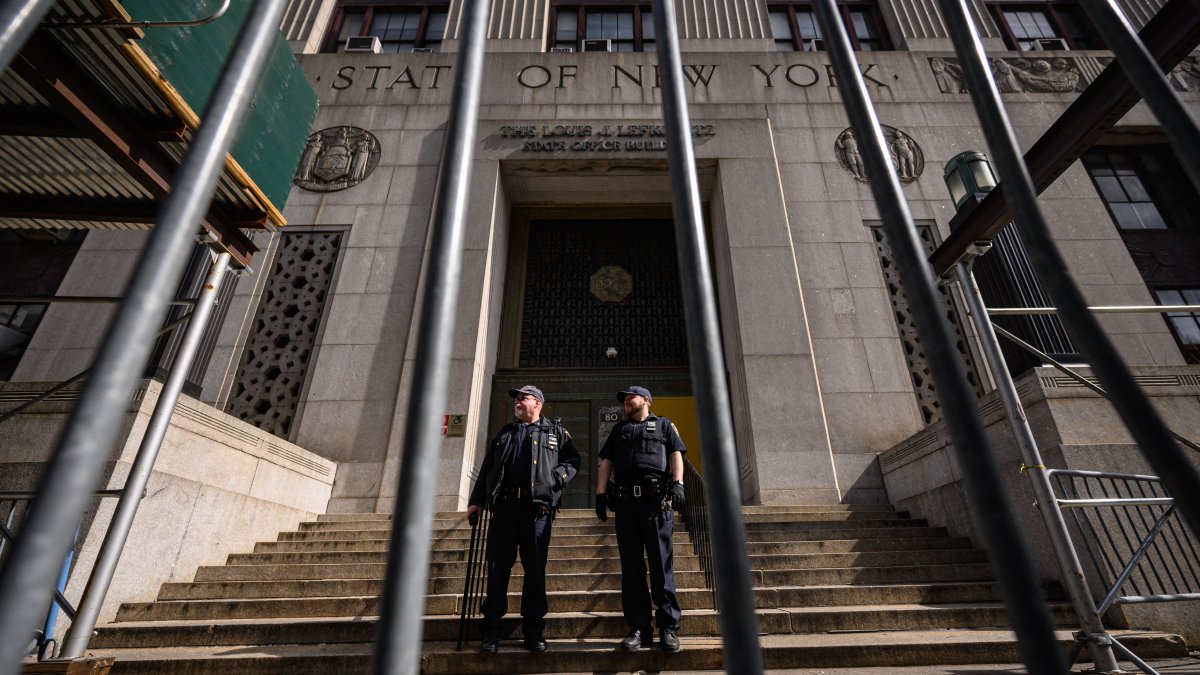 What to Know
All eyes have been on Manhattan District Attorney Alvin Bragg regarding a potential Donald Trump indictment; the grand jury that has been hearing that case is expected to meet Thursday, but sources say they aren't expected to talk about alleged hush money
A day ago, the grand jury was told to stay home. They last heard testimony from Trump ally Robert Costello Monday, where he sought to discredit Michael Cohen
If the Manhattan grand jury were to indict Trump, it would mark the first criminal charges against a former or sitting U.S. president. Any charges, or conviction, though, wouldn't ban him from running
The Manhattan grand jury that has been weighing potential charges against former President Donald Trump is expected to meet Thursday after an unexpected, and still unexplained, day off — but it doesn't appear, at this point, they will hear anything related to the alleged hush money case, three sources familiar with the matter say.
The panel had been scheduled to meet Wednesday afternoon regarding the Trump case but Manhattan District Attorney Alvin Bragg told them to stay home and be on standby for a potential hearing the next day, sources said. The reason for the delay remains unclear, including whether it may be related to a potential witness or new evidence.
Also unclear: What the grand jury will discuss Thursday if not Trump, who announced to the globe nearly a full week ago that he expected to be arrested in Manhattan earlier this week. Sources say the situation remains fluid, but as of 10 a.m. Thursday, it was looking like the grand jury might not meet on Trump matters until Monday at the earliest.
Bragg's office declined to comment, saying it couldn't speak on grand jury matters. The proceedings have been shrouded in secrecy, but sources had confirmed the meeting plans. The district attorney was seen arriving at his Hogan Place office in Lower Manhattan ahead of the expected meeting around noon, according to the sources.
Trump taunted the DA on his social media platform for much of the day, then released a statement that read, "Total disarray in the Manhattan D.A.'s Office. Tremendous dissension and chaos because they have NO CASE, and many of the honest people in the Office know it, and want to do the right thing. They think back to the Late, Great, Bob Morgenthau, the best ever, and know what he would have done. JUSTICE FOR ALL!"
Meanwhile, the world continues to wait.
Even if the Manhattan grand jury were to discuss Trump Thursday, which sources indicated did not appear to be the plan, it wouldn't guarantee a same-day potential indictment vote. Legal experts said it's a complicated case and every detail needs to be reviewed in order for the grand jury to legally move forward.
One key question being weighed: Whether prosecutors can trust the key testimony from Michael Cohen, especially after his former lawyer and Trump ally Robert Costello testified under oath on Monday that he is "totally unreliable."
"I think the DA now has to call a time-out and decide if they can go forward with this case and this witness," Costello said. "I think I threw a wrench in their monkey works."
Speculation abounds with the relative silence out of the Manhattan district attorney's office this week.
Columbia law professor John Coffee suggested the law itself could be a problem for prosecutors because even if the district attorney can prove Trump falsely accounted for hush money to Stormy Daniels, that would only amount to a misdemeanor. Winning a low-level felony conviction could require connecting that to a federal crime. 
"The New York statute says it's a misdemeanor if you just falsify the records. It's a felony if you falsify the record in order to conceal a crime. But if the crime is a federal crime that is a different ball of wax," said Coffee. "It is not at all clear that NY state has jurisdiction or authority to find a violation of a federal crime."
Federal prosecutors had said the payments amounted to illegal, unreported assistance to Trump's campaign. But they declined to file charges against Trump himself. The ex-president has denied all allegations against him.
Sources say an indictment of former President Donald Trump could happen as early as Wednesday — if it happens at all. So far, there has been no official announcement of any time-frame for the grand jury's work in the hush money investigation. Meanwhile, law enforcement agencies at all levels are shoring up security for the possibility of an indictment. NBC New York's Jonathan Dienst and Sarah Wallace report.
The latest developments come days after Trump urged his supporters to "PROTEST, PROTEST, PROTEST" in New York City, where throngs of fully uniformed NYPD, Secret Service and other officers secured the Manhattan Criminal Court perimeter ahead of a possible grand jury indictment. The uniform mandate for all officers remains in effect.
Protests have been intermittent and largely muted thus far. A few members of the New York Young Republican's Club donned MAGA hats and rallied outside Manhattan Criminal Court earlier this week, and a barricaded Trump Tower in midtown Manhattan has been the scene of a handful of impromptu demonstrations.
It's unclear if any potential organized actions could intensify should the grand jury opt to indict Trump, which would be the first indictment of a sitting or former U.S. president in history. But with the pall of the Jan. 6 insurrection still looming large, the NYPD, and its law enforcement partners at all levels of government, are preparing accordingly.
There has been no public announcement of any time frame for the grand jury's secret work in the case, though the former president said over the weekend that he expected to be arrested on Tuesday. NBC New York's Jonathan Dienst and Sarah Wallace report.
Trump is reportedly concerned about optics if he is indicted. The New York Times cited friends and associates who say the former president is ready for his perp walk, and even mused openly about whether he should smile for the assembled media. He has reportedly pondered how the public would react and is said to have described the potential spectacle as a fun experience, according to the Times.
Friends and associates of Trump told the Times that no one is quite sure whether his remarks are bravado or genuine resignation about what lies ahead.
As of the latest developments, there have been no plans or requests for Trump — who has been at his Mar-a-Lago estate in Florida and hasn't commented on the grand jury delay — to travel to the city this week, sources sat.
It doesn't appear a virtual arraignment would be likely in the event of an indictment, given what would be the historic significance of such a proceeding.
Former President Donald Trump has said he is expecting to be arrested Tuesday in the city, though a grand jury has yet to make a decision. NBC New York's Jonathan Dienst, Marc Santia and Chris Glorioso have team coverage on the protests, the new testimony, and what the NYPD is preparing for.