'Leftist Sons Of B*tches, Be Afraid!' Trump, Tucker Carlson, Marjorie Taylor Greene, & Online Conservatives Celebrate Argentina's New Far-Right President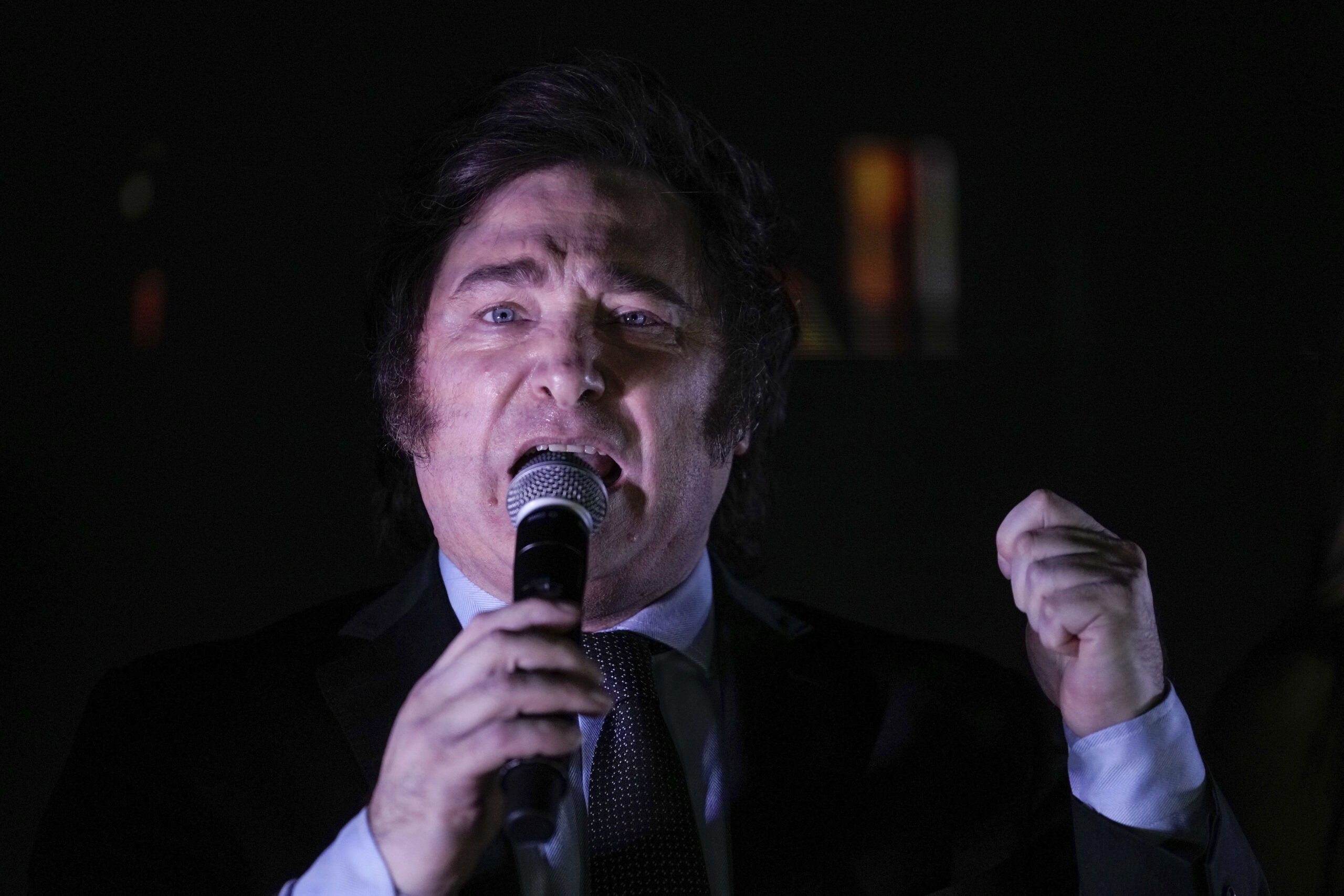 Former President Donald Trump along with a whole host of other online conservative influencers celebrated the victory of far-right outside Javier Milei in Argentina's presidential election.
Provisional results on Sunday night showed Milei defeating his rival Sergio Massa with over 55% of the votes, according to CNN. Massa conceded the election later in the evening, congratulating Milei on his victory. He is viewed as a bombastic right-wing outsider in Argentina politics, who campaigned on an anti-establishment platform.
Trump took to Truth Social to congratulate the self-described libertarian with the message, "MAKE ARGENTINA GREAT AGAIN!"
"Congratulations to Javier Milei on a great race for President of Argentina. The whole world was watching! I am very proud of you. You will turn your Country around and truly Make Argentina Great Again," the president wrote to his followers.
Former Fox News host Tucker Carlson shared a photo of himself with Milei after the results were announced, while the Daily Wire's Ben Shapiro noted it was "awesome news."
Awesome news https://t.co/F2G45ZCDu4

— Ben Shapiro (@benshapiro) November 20, 2023
In honor of Milei's victory, Rep. Marjorie Taylor Greene (R-GA) tweeted out a video of him vowing to destroy the Ministry of the Environment and Sustainable Development and Ministry of Women, Genders, and Diversity. Republican firebrand presidential candidate Vivek Ramaswamy also posted a video congratulating Milei.
Congratulations @JMilei!!

Argentina God bless you!!

— Marjorie Taylor Greene 🇺🇸 (@mtgreenee) November 20, 2023
Just a century ago, Argentina was one of the ten wealthiest countries in the world. Today's Argentina suffers 124% inflation & loses economic migrants to other countries. Congratulations to Javier Milei. Now the hard part begins. May the spirits of Mises & Hayek be with you. pic.twitter.com/UVZVcZtI1e

— Vivek Ramaswamy (@VivekGRamaswamy) November 20, 2023
Other online conservative influencers, such as Ian Miles Cheong and former Arizona senate candidate Blake Masters, shared posts on X praising Argentina new president-elect including a video of Milei reportedly screaming, "Leftist sons of b*tches, be afraid!"
"Leftist sons of b*tches, be afraid!" pic.twitter.com/fnxo6FEUag

— Ian Miles Cheong (@stillgray) November 20, 2023
In 2016, Brexit prefigured Donald Trump's election.

Now, Argentina electing Javier Milei foreshadows Trump's return in 2024. pic.twitter.com/rsGbkniVfl

— Blake Masters (@bgmasters) November 20, 2023
Have a tip we should know? [email protected]