Elon Musk and Jane Fraser Are Just Some of the CEOs Hoping to Woo China's Xi
Executives from Microsoft Corp., Citigroup Inc., Exxon Mobil Corp. and other large multinationals are converging on San Francisco this week for an audience with Chinese President Xi Jinping and other Asian leaders as long-frosty US-China relations show only tentative signs of warming.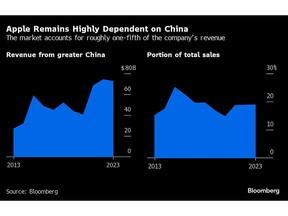 Article content
(Bloomberg) — Executives from Microsoft Corp., Citigroup Inc., Exxon Mobil Corp. and other large multinationals are converging on San Francisco this week for an audience with Chinese President Xi Jinping and other Asian leaders as long-frosty US-China relations show only tentative signs of warming.
For many corporations, the agenda is simple: They're ready to get back to business.
Article content
A CEO summit on the sidelines of the Asia-Pacific Economic Cooperation meeting will coincide with the most challenging trade climate in a generation. Washington is trying to prevent China from acquiring high-end computer chips and has imposed curbs on US investment there. Beijing has responded by jump-starting its own chip efforts and exhorting citizens to buy locally made phones and other products. From tech to logistics, oil and gas to finance, companies are struggling to maintain access to Chinese consumers even as they try to navigate a growing list of regulations, tariffs and export controls.
Some of the biggest names in American business are scheduled to attend the summit, among them Citigroup's Jane Fraser, Exxon's Darren Woods, Microsoft's Satya Nadella and Tesla Inc. and SpaceX's Elon Musk. A number of executives have been invited to dine with Xi, according to people familiar with the plans, a chance for them to air their concerns and ambitions in a less formal setting. 
"If Xi is going to meet these business leaders at this summit, they'll be looking for signals that the US-China relationship is thawing," said Dan Prud'homme, an assistant professor of business at Florida International University.
Article content
Founded in 1989, APEC was created to promote free and fair trade as China began its historic economic opening under Deng Xiaoping. APEC meetings rarely lead to breakthroughs—or even agreement. Still, the San Francisco gathering marks the first time the US has hosted the event in 12 years and will provide a widely welcomed opportunity for President Joe Biden and Xi to meet face to face.
"What we're trying to do is change the relationship for the better," Biden told reporters Tuesday at the White House, shortly before departing for San Francisco, where he's set to meet Xi on Wednesday. Biden said that he believed the Chinese people were "in trouble right now economically."
Potential Thaw
In recent months high-level officials from both countries have met multiple times to lay the groundwork for the first summit between the two men in a year. In one sign of a potential thaw, the Chinese government is considering unveiling a purchase agreement for Boeing Co.'s 737 Max jetliner during APEC, according to people familiar with the situation. Xi isn't expected to announce a formal order for the plane, the people said. But a deal would be a significant breakthrough for Boeing, which has been largely frozen out of the Chinese market in recent years. In another development, China bought more than 3 million metric tons of soybeans from the US last week, a goodwill gesture, according to people familiar with the matter.
Article content
"Both sides have decided right now to tap the brakes and try to inject a degree of stability into what is otherwise a deteriorating situation," said Evan Medeiros, who was President Barack Obama's top advisor on Asia and now is the Penner Family Chair in Asian Studies at Georgetown University.
For business leaders, APEC is an opportunity to schmooze, press their agendas and pontificate about the state of the world. Musk is scheduled to join Salesforce Inc. CEO Marc Benioff for a session called "Conversations on the Future." Exxon CEO Woods plans to give a speech called "Reframing the Climate Challenge: Keep the Energy, Curb the Emissions."
The hottest ticket is the Xi dinner, and executives were scrambling for seats or to be put on a waiting list, according to people familiar with the situation. The Chinese president is under pressure to assure executives that his nation is very much open for business and making progress in its efforts to revive the economy. His guests will be keen to tell him that they still see China as a vitally important market despite Washington's efforts to erect barriers around sensitive technologies.
Article content
Read more: China Foreign Investment Gauge Turns Negative For First Time 
Some companies are more directly affected than others by Beijing's crackdown on foreign businesses, and few more so than Apple Inc., which generates about a fifth of its revenue from the region and manufactures the vast majority of its devices there. Apple's sales in China slowed last quarter, and it's facing rising competition from Huawei Technologies Co. Bloomberg and other media have reported that Beijing has limited the use of the iPhone and other foreign technology at agencies and state-backed firms. Government officials have denied that. 
While Tim Cook isn't attending APEC — instead sending a middle-ranking government-affairs official — the Apple CEO visited Beijing last month. He met with Commerce Minister Wang Wentao, who told him China welcomes Apple and other multinationals. 
San Francisco is emerging as a central hub for artificial intelligence, and the technology will be much on the minds of attendees. Officials around the world have expressed concerns about AI's potential dangers even as the US and China compete to dominate the dawning era of chatbots and content generators. Last month, in an executive order, Biden proposed regulating sales to foreign entities of cloud-computing power used to feed data to the software models that generate AI content. 
Article content
Microsoft has baked generative AI into all of its major products, and Nadella is scheduled to talk up the technology in a speech on Wednesday. "Now is the moment for dialogue on the pivotal role of AI breakthroughs in shaping the global economy," Microsoft Asia chief Ahmed Mazhari said in a statement. Google, which is sending several executives, plans to explain why its AI products are suitable for Asian markets. 
While many of the mutual trade restrictions have been targeted at companies whose products have national-security implications, Florida International University's Prud'homme notes that many of the companies attending APEC don't make products that can be used for military purposes. "They're somewhat off the radar of the US government national security establishment," he said. "And they will be wanting to convince their counterparts in China that they are in industries that should not be targeted by the current political tensions."
Petrochemical Plant
Exxon is a case in point. Having won permission to build a multibillion dollar petrochemical plant in Guangdong Province, the company wants to be a key supplier of plastics to the country's manufacturing industry for decades to come.
Article content
Meta Platforms Inc.'s social-media apps Facebook, Instagram and WhatsApp have been blocked in parts of Asia for years, notably China. But the company is becoming increasingly reliant on the region to manufacture its virtual reality headsets and smart glasses. During APEC, Meta executives will be looking to strengthen ties with government officials and Asia-based manufacturers that can enable or hamper its growth.
To be sure, US corporations run risks forging close ties with China. The country has drawn international opprobrium for its treatment of the minority Uyghurs, restricting citizens' freedoms and increased military aggression toward Taiwan.
Apple is regularly criticized for the concessions it has made to operate in China. The company partnered with a government-linked enterprise to power iCloud, raising concerns that Beijing could access data stored on users' Apple accounts — an assertion Apple has contested. It has eliminated apps on the local version of its App Store if Bejing objects to them and agreed not to operate such digital services as Apple TV+, the iTunes Store and Apple Arcade.
Article content
Musk, whose Tesla has a factory in Shanghai, has also been criticized for cozying up to Beijing. He caused an international uproar last year when he suggested the world treat Taiwan as a special administrative region like Hong Kong.
Most executives refrain from openly criticizing Beijing, but FedEx Corp. chairman and founder Fred Smith recently told an energy conference that China had "become mercantilist, protectionist and [has] a geopolitical ambition to become a hegemon."
Smith isn't attending APEC. But his successor as CEO, Raj Subramaniam, will be there and is expected to echo his mentor's longstanding argument that more trade drives economic growth, creates wealth and spreads peace. 
—With assistance from Mark Gurman, Gabrielle Coppola, Dana Hull, Julie Johnsson, Jenny Leonard, Isis Almeida, Jennifer Jacobs, Shawn Donnan, Kevin Crowley, Brody Ford, Paige Smith and Aisha Counts.
(Updates with Biden comments in seventh paragraph.)