Jim Biden's last name has helped open doors. It also has made him a target of House Republicans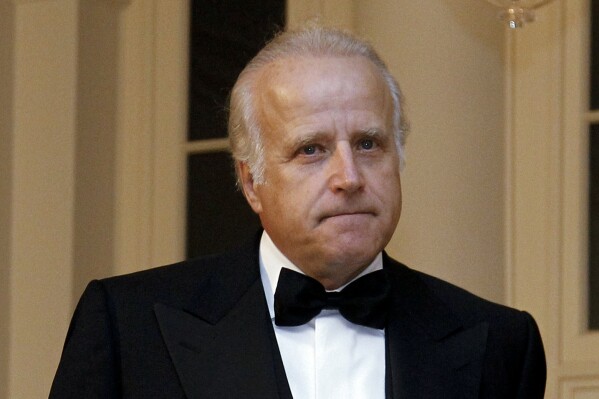 ELLWOOD CITY, Pa. (AP) — When a health care startup dreamed of building a network of rural hospitals several years ago, it turned to Jim Biden.
Although he wasn't a public health consultant or a medical expert, Jim Biden was the brother of Joe Biden, who had recently finished his term as vice president. The company's chief executive believed Jim Biden would help provide the enterprise with "serious horsepower."
But Jim Biden wasn't the secret weapon that Americore Health Services was counting on. The company imploded in 2019, filing for bankruptcy amid a pile of lawsuits and a federal investigation into fraud allegations. Americore also accused Jim Biden of failing to repay $600,000 in loans.
Some of the Florida-based company's hospitals closed, including one in Ellwood City, near the western edge of Pennsylvania, where medical equipment gathers dust and plywood covers broken windows. The only reminder of the bankrupt company's brief tenure as the town's biggest employer is a plaque honoring its donation to a nearby high school athletic field.
The fallout has extended to Washington, where Republicans are hunting for evidence that could be used to impeach Democratic President Joe Biden. It's a playbook that they've already used on Joe Biden's son Hunter, whose checkered history includes controversial overseas deal-making, accusations of tax evasion and a well-publicized struggle with addiction.
Republicans have not uncovered evidence directly tying the president to any wrongdoing. But his brother and son make attractive twin targets, having been close for decades and facing accusations of leveraging their last name into corporate paydays. House Republicans subpoenaed them on Wednesday as part of their investigation into a complicated web of transactions and relationships within the Biden family.
The latest focus has been on a series of payments that Republicans claim show the president benefited from his brother's work, including more than $600,000 that Americore sent Jim Biden when the company was struggling to stay afloat.
Republicans have highlighted a $200,000 personal check from Jim to Joe Biden on the same day — March 1, 2018 — that Jim Biden received an equal amount from Americore.
House Democrats point to bank records they say indicate Jim Biden was repaying a loan provided by his brother, who had wire transferred $200,000 to him about six weeks earlier. The money changed hands while Joe Biden was a private citizen, after his stint as vice president and before announcing his successful White House bid.
"There is nothing more to those transactions, and there is nothing wrong with them," said Paul Fishman, an attorney representing Jim Biden. "And Jim Biden has never involved his brother in his business dealings."
He accused Republicans of pursuing "an unnecessary and intrusive review of Jim's private banking records."
White House spokesman Ian Sams said "extreme House Republicans won't let the truth get in the way of abusing their power to conduct a smear campaign against the president."
Jim Biden last year repaid Americore $350,000 to settle a lawsuit filed by the company's court-appointed trustee. His lawyers for that proceeding said he played no role in the company's collapse and all the money he received was for his consulting work, not loans, as the trustee had alleged.
Biden's political adversaries have vowed to press forward with their investigations as an election year approaches.
Rep. James Comer, chairman of the House Oversight and Accountability Committee, said he's "troubled that Joe Biden's ability to recoup funds depend on his brother's cashing in on the Biden brand."
Comer, R-Ky., is also scrutinizing a daisy chain of transactions beyond those involving Americore. The lawmaker claims records show that Joe Biden benefited from "laundered China money" when Hunter and Jim Biden began working with a politically connected Chinese energy company in 2017.
Jim Biden's wife, Sara, cut a personal check to Joe Biden for $40,000 on Sept. 3, 2017, which came weeks after a payment from Chinese interests.
House Democrats said bank records show Joe Biden had wired $40,000 to his brother a little more than a month earlier, suggesting that the subsequent check was to repay a loan.
Representatives for Joe and Jim Biden did not provide explanations for the loans, which were made during a lucrative intermission in the president's career as an elected official. In the two years after leaving the vice presidency, Joe Biden and his wife, Jill, made $15 million in book deals, speaking fees and university work.
Jim Biden's varied career has included stints working as a nightclub owner, selling health and pension benefit services to labor unions and working for a construction company seeking contracts in the Middle East. Last year he said he was looking to purchase a professional rugby franchise in Philadelphia. Jim Biden also has a checkered financial history that includes lawsuits over unpaid bills, trouble with mortgage payments and liens for unpaid federal, state and municipal taxes, court and land records show.
Concerns that Jim Biden's business ventures and missteps would cloud Joe Biden's political career stretch back decades.
After Joe Biden was elected to the Senate in 1972, Jim Biden ran a Delaware nightclub called Seasons Change that eventually shut down with roughly $600,000 in unpaid debts, according to local newspapers.
Jim Biden received some loans for the club because officials at one bank believed that his last name "would attract a trendy free-spending crowd," the Delaware News Journal reported in 1977. One of the officials tried to pressure Jim Biden to repay the money by telling him that delinquency could embarrass his brother.
According to a newspaper interview that the bank's chairman gave at the time, Joe Biden angrily called to complain. "Look," the senator said, "whatever goes on with my brother, it's his problem, and don't bring my name into it."
Jim Biden's personal financial troubles played a role in his brother's decision to quit his first presidential campaign in 1988, according to the book "What It Takes."
And his ties to lawyers entangled in a Mississippi bribery scheme became a target for Republicans in the 2008 race, when Joe Biden was Barack Obama's running mate.
The negative publicity doesn't seem to have driven a wedge between the brothers, and the president tapped Jim Biden to pick out furnishings for the Oval Office. He also attended a state dinner at the White House honoring Indian Prime Minister Narendra Modi in June.
Joe and Jim Biden's lives have been intertwined in ways that transcend the typical closeness between siblings. The president is the oldest of four children, followed by his sister Valerie, Jim and youngest brother Frank. Their father was a used car salesman and their mother a homemaker, and they were often strapped for cash while growing up.
Jim Biden left the University of Delaware without graduating and raised money for his brother's first Senate campaign. After the 1972 election, Joe Biden's wife and baby daughter were killed in a car accident. His sons, Beau and Hunter, were badly injured. Jim Biden converted the garage of his brother's house into an apartment, helping with the boys in Delaware as the new senator shuttled back and forth to Washington.
In an interview last year with Internal Revenue Service agents investigating Hunter Biden's taxes, Jim Biden referred to his nephew as his "best friend." A memo summarizing the interview was released by House Republicans.
Hunter was similarly effusive in his memoir, "Beautiful Things," describing how his uncle brought him to rehab in California when he battled addiction to alcohol and crack cocaine following the 2015 death of Beau Biden to brain cancer.
"Dad knew that if his younger brother asked me to do something, I'd do it," Hunter recalled in his memoir. "Uncle Jim has his own superpower: he gets things done. So he jumped on a plane to Los Angeles, pulled me out of a room in the Hollywood Roosevelt, and said, 'I found a place. Let's go.'"
The uncle and nephew have also been in business with each other. Some deals fizzled, such as a disastrous purchase of a hedge fund, while others were lucrative, like consulting for CEFC China Energy.
Records released by House Republicans show more than $1 million in payments linked to the Chinese firm were paid to Jim Biden's company.
But even when Jim Biden was making money, he struggled to stay solvent. In September 2017 he was sued by American Express over a $65,000 unpaid credit card bill. Court records show the matter was dropped, and Jim Biden's representatives said the bill was paid.
In early 2018, Jim Biden sold a Florida vacation home for about $1 million less than what he had paid for it a few years earlier after it was damaged by Hurricane Irma. Last year he was hit with a $16,000 state tax lien in Pennsylvania, which was paid off a month later, according to local court records.
Republicans remain interested in what transpired with Americore, referencing payments from the company when writing that they've "uncovered evidence that President Biden directly benefited from Jim Biden's attempts to peddle influence."
It is not clear how Americore connected with Jim Biden. Tom Pritchard, a former company executive, said he immediately doubted Jim Biden's value to the startup.
The executive was perplexed that Jim Biden insisted on decorating his office with expensive furniture even as the company was losing money. And Jim Biden always seemed more interested in selling the image of a political insider than doing the hard work necessary to save the firm, Pritchard said.
"He was definitely going for the presidential look," Pritchard said in describing how Jim Biden displayed signed photos of his brother and Obama in his office.
He added that Jim Biden "wanted to do as little as possible and reap the maximum benefits."
Fishman, the attorney representing Jim Biden, defended Jim Biden's contributions to the company, saying he "worked diligently to identify investors, strategic partners and business opportunities for Americore."
Pritchard said Jim Biden promised to leverage his brother's clout to attract investment from the Middle East, as well as to win contracts to conduct laboratory work for unions and the U.S. Department of Veteran Affairs.
In the end, the cash infusion from such countries as Qatar and Saudi Arabia never arrived. Instead, Jim Biden helped land a bridge loan for the company, according to court records. The money, more than $19 million, was from a South Florida money manager, Michael Lewitt, with whom he had started a separate venture around the same time.
Jim Biden and Lewitt's company, Platinum Global Partners, listed as its address a small Delray Beach, Florida, body shop specializing in foreign car repairs, according to corporate registry records. It was dissolved in July 2020, barely 16 months after it was created.
Last month, the Securities and Exchange Commission accused Lewitt in a civil lawsuit of defrauding investors, many of them older people, who were told their savings would be used to purchase Wall Street securities — not funneled to Americore, an unlisted, unprofitable company. Lewitt, the fund's sole manager, is accused of taking $4.7 million for himself. Lewitt did not respond to a request for comment.
Jim Biden was not named in the suit, and Fishman said he is not under investigation.
Pritchard said Biden's promises helped Americore persuade skeptical residents in small towns to embrace the company's takeovers. That was especially true, Pritchard said, in Ellwood City, where the hospital, like the old steel mill town, had been declining for decades.
At a hearing before a local judge in August 2017 to approve the sale, Americore's president, Grant White, invoked Jim Biden's involvement as he spoke emotionally about the company's plans.
"So when you say what's our motivation, why are people like Jim Biden, who could do many other things with his life, why am I doing this instead of investment banking and making a few bucks?" White said with Jim Biden nearby in the courtroom. "Because this is a once-in-a-lifetime opportunity to actually make a difference."
Americore's collapse has left bitterness in Ellwood City, a traditionally blue-collar Democratic town won by then-Republican President Donald Trump in 2020.
At the same time the company was bleeding cash, Jim Biden received $600,000 that former workers believed could have been directed to the struggling hospital.
Within two years of Americore acquiring the facility, the company capped paychecks at $500 and the emergency room's CT scanner broke. Just days before Christmas in 2019, the last of the hospital's roughly 200 employees were laid off.
Scott Paglia, a respiratory therapist who worked at the hospital for two decades, remains angry over what happened. He blames Jim Biden for profiting from his hometown's misfortune and suspects Americore was intent on fraud from the outset.
"How do these people get away with this?" asked Paglia. But he's also angry at Jim Biden's brother.
The president, he said, "had to know he was selling the Biden name."
___
Suderman reported from Richmond, Virginia, and Megerian from Washington. Associated Press news researcher Rhonda Shafner in New Yok contributed to this report.