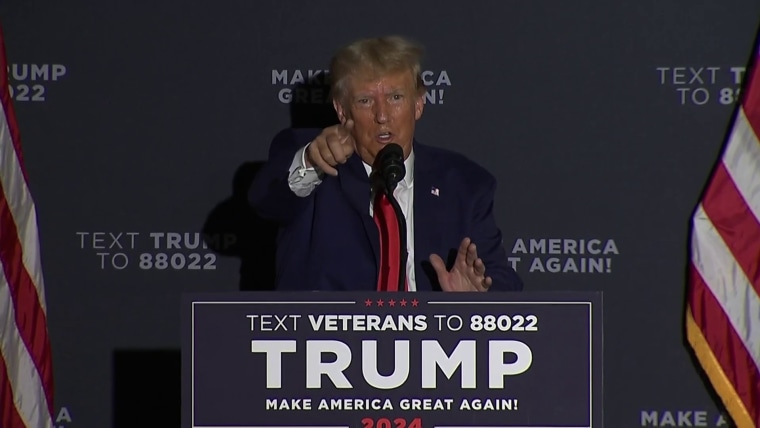 WASHINGTON — The judge presiding over Donald Trump's
Attorneys for Trump didn't immediately respond to requests for comment about the Friday hearing or his rally remarks.
The special counsel's office declined to comment.
Chutkan scheduled the hearing after the special counsel's office said in a joint filing earlier Tuesday that it was available for a hearing Wednesday, Thursday or Friday.
Trump's team said Thursday was no good because Blanche is due in federal court in Florida for Trump's arraignment in a superseding indictment in a separate prosecution brought by Smith's office alleging Trump mishandled national security documents and tried to cover it up.
The defense instead asked that the hearing be held Monday or Tuesday of next week but didn't explain what its issues were with this Wednesday or Friday, except to say it had "lost Friday as an option."
In a terse ruling late Tuesday, Chutkan ordered both sides to appear before her at 11 a.m. ET Friday.
Trump's attorneys separately filed a motion seeking to exclude the 25 days between Trump's initial court appearance last Thursday and a hearing set for Aug. 28 from the time calculation under the Speedy Trial Act.
They cited a federal law that allows the court to exclude certain periods of delay when it computes time limits to begin a trial and argued the proposed exclusion "is warranted by the complexity of this matter, including the substantial volume of discovery and novel questions of fact and law."
The Speedy Trial Act holds that when a not guilty plea is entered, a trial should begin within 70 days of the indictment's filing or the defendant's appearance before an officer of the court, whichever is later.
In a statement Tuesday night, prosecutors said that "the ends of justice are best served by a speedy trial," adding that they would respond "more specifically" after they review Trump's motion.
Meanwhile, members of the grand jury that voted to indict Trump were seen back at work in the E. Barrett Prettyman Courthouse in Washington on Tuesday morning. It wasn't clear whether they were hearing testimony from witnesses. They left the courthouse around 1:30 p.m. ET.
The four-count indictment accusing Trump of using "unlawful means" to try to stay in power alleged that he carried out his schemes with help of six co-conspirators — four attorneys, a Justice Department official and a political consultant.
Trump has pleaded not guilty and maintains the probe is part of a Democratic "witch hunt" against him.
While the alleged co-conspirators aren't named in the indictment, NBC News has been able to identify five of the six based on details in the court filing and transcripts of testimony to the House Jan. 6 committee and other records. The five appear to be former New York Mayor Rudy Giuliani, a longtime Trump attorney; lawyers John Eastman and Kenneth Chesebro, architects of the "fake electors scheme"; attorney Sidney Powell, who helped lead Trump's post-campaign legal efforts and promoted conspiracy theories; and former Justice Department official Jeffrey Clark, who tried to put the weight of the Justice Department behind Trump's debunked fraud claims.
Attorneys for Giuliani and Eastman have acknowledged their clients appear to be identified as co-conspirators and have denied they did anything illegal.
Representatives for Powell, Clark and Chesebro haven't responded to requests for comment.
On Monday, Smith's team interviewed former New York City Police Commissioner Bernard Kerik in connection with the election probe.
The interview, which lasted about five hours, largely focused on Kerik's work investigating voter fraud allegations on behalf of Giuliani, his longtime friend and former boss, Kerik lawyer Timothy Parlatore said Monday.
Daniel Barnes reported from Washington and Dareh Gregorian from New York.